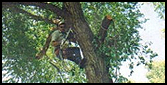 A&L Tree Service provides yard-transforming tree and stump removal services in Lubbock, Texas. For your convenience, our skilled staff remove unwanted trees, deadwood, or unsightly stumps.

Tree Removal
If your tree is diseased, dead, or in the process of dying, let us remove it to prevent further damage to your surrounding environment. We have years of experience to ensure your surrounding structures, such as pools or garages, are kept safe during the removal process.
When you want to change your property by putting up a new structure, we take any obstructing trees down in a safe manner. Tree removal is also necessary when the roots are damaging the plumbing, sidewalk, driveway, or foundation of your home.
Stump Grinding
Once you have us remove a troublesome tree, we grind the stump down to below ground level, so it is easy to mow around. When a stump is sticking out of your yard, our grinding machine removes it completely to improve the look of your yard.